Galicia, luxury experiences within your reach
The concept of luxury gains a new dimension in Galicia while still maintaining quality and exclusivity, allowing for unique, upscale experiences that do not require a huge investment. This includes five-star hotels in a paradise-like setting, paradors that overlook the sea from atop cliffs, pazos full of character and history, and spas that bring comfort to both mind and soul. If sophistication, elegance, and good taste are an integral part of your event, let us show you how to also incorporate luxury without foregoing your budget.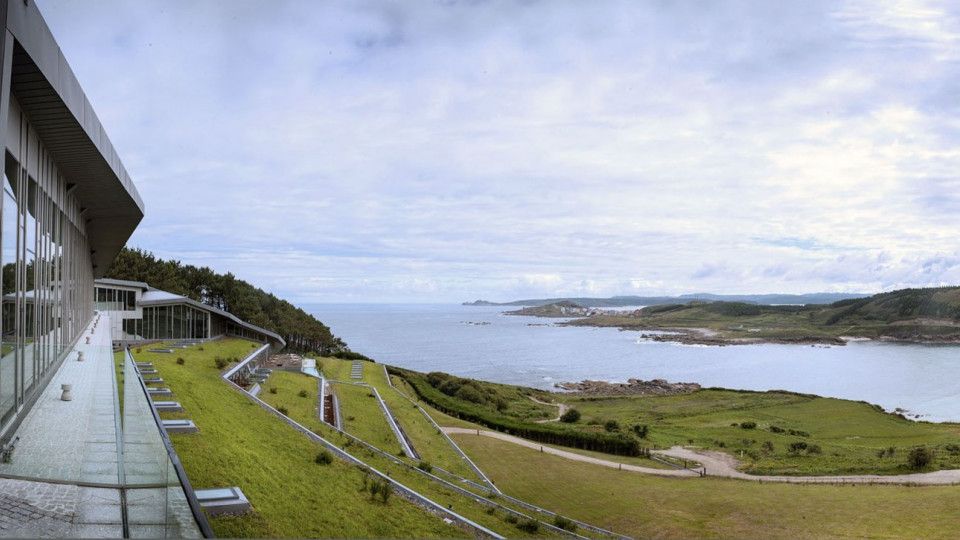 DoubleTree by Hilton A Coruña
The first Hilton hotel in Galicia is located steps away from the Riazor beach and 5 minutes on foot from the Plaza de María Pita and the centre of the city. Housed in the old Spanish Electrical Grid building, the DoubleTree by Hilton A Coruña is the first boutique hotel in the city where the decorations and style have been painstakingly designed down to the last detail. Black marble, art deco style, luxury furnishings, natural vegetation, Versace finishes in the bathrooms, luxurious lamps, and Seoane engravings on the walls adorn this 7-story building, and each of its 59 rooms have their own personality. In addition to the event halls, it also has a large terrace for hosting events both in winter and summer and a multi-use hall with a library equipped with a 75" Smart Board, which is ideal for executive meetings also with its private terrace. Inside we can find the Hünico restaurant, where the renowned Michelin chef Adrián Felipez, awarded with the Bib Gourmand distinction, is at the helm of this luxury kitchen that focuses on Galician products and wines.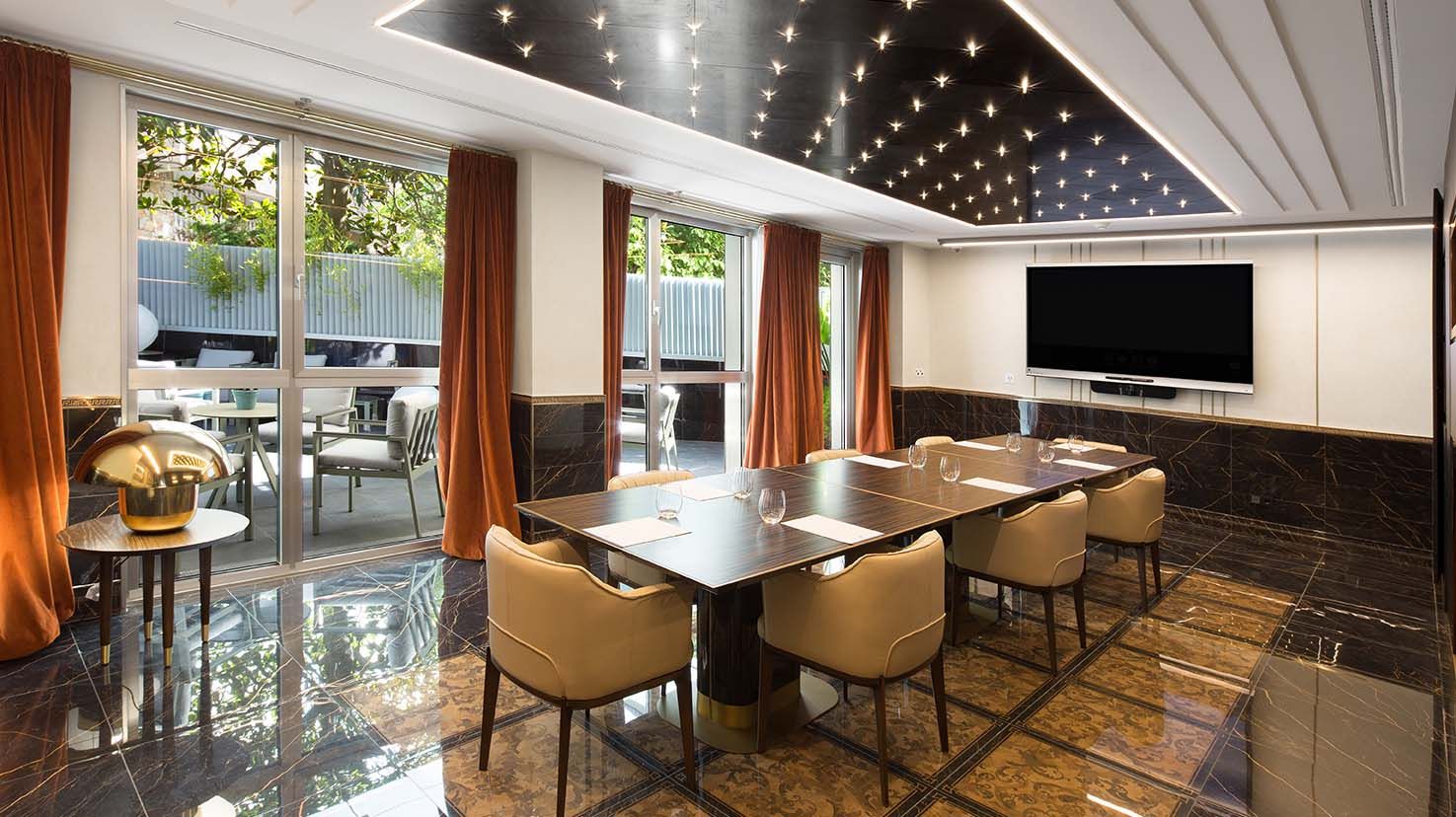 Parador Costa da Morte, in Muxía
Next to the beautiful Praia de Lourido stands this new parador (luxury hotel housed in a historic building), inaugurated on 25 March 2020, which pays homage to the Prestige. It is constructed on several levels, adapting to the mountainous terrain that rises from the sea by integrating into the natural landscape. It also offers some incredible views of the Atlantic Ocean. The parador's first floor has been designed for events and conventions. It also has a 532m2 hall that can be divided into three rooms with sea views, with 200m2, 100m2, and 232m2, respectively. In the events area there are also two exterior terraces, one with a floor space of 180m2 and another with 120m2. The Parador boasts 63 guest rooms, each with a terrace and ocean views, an outdoor infinity pool, the A Buserana café, and O Corpiño restaurant, which can hold 120 people. The Camino de Santiago in Finisterre and Muxía goes through the land the Parador sits on, just half an hour from the Cabo Fisterra lighthouse, christened by the Romans as "the end of the world", a place forever linked to sailing and legends. From the Parador, you can hike the Ruta de los Faros (Route of the Lighthouses), a natural trail that goes from Malpica to Finisterre, passing by 14 lighthouses that serve as a warning to vessels that approach the Costa da Morte.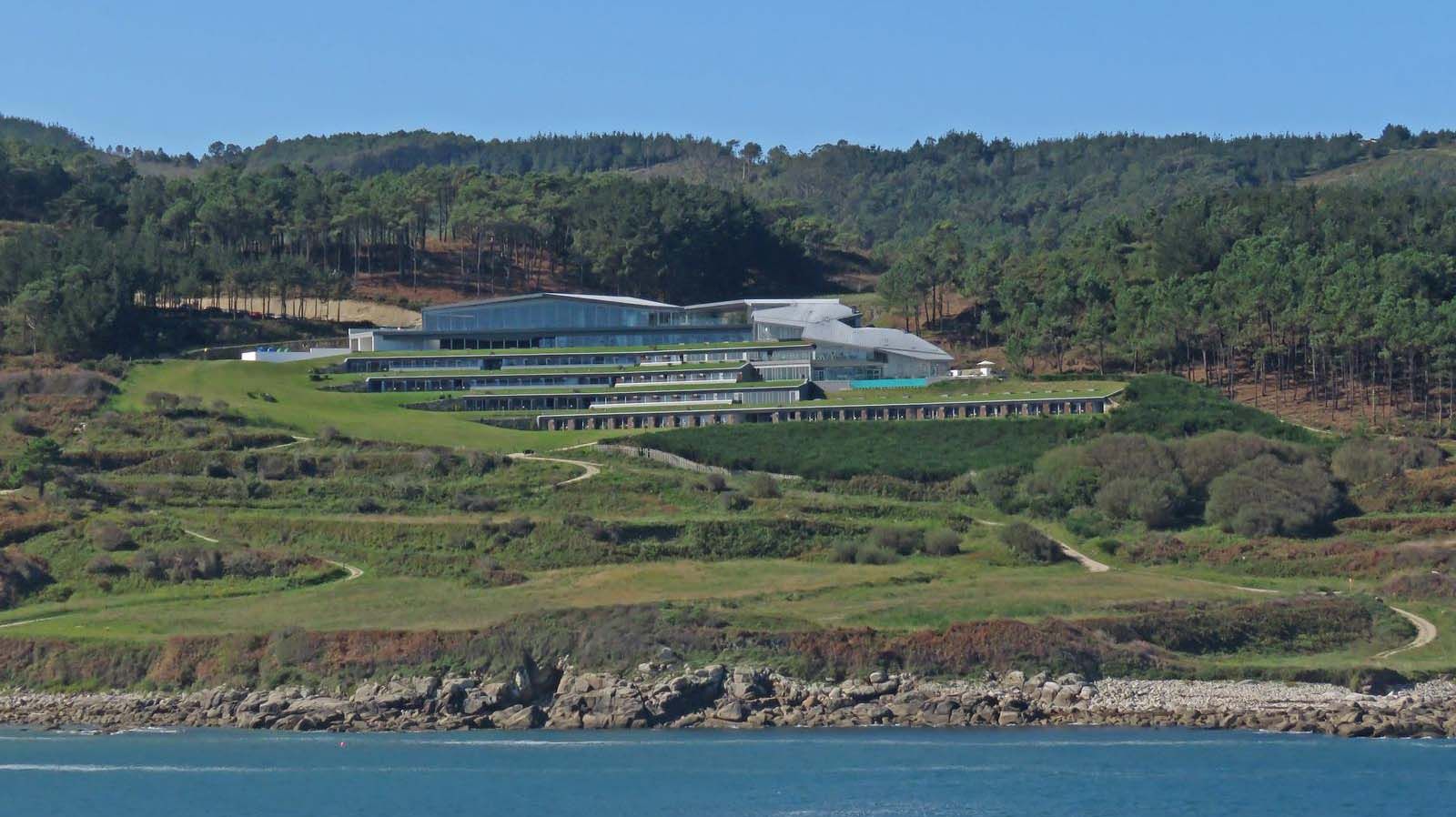 A Quinta da Auga, in Santiago de Compostela
The only Relais & Châteaux property in Galicia, this is a luxury hotel with a sprawling 10,000 m2 property on the banks of the Sar river. It has a luxury spa and haute cuisine restaurant called Filigrana. In A Quinta da Auga, there are personalised activities and experiences that will allow you to explore Santiago de Compostela and Galicia in a unique and exclusive way,with visits to wine cellars, exclusive dinners in unique spaces, wine tastings and pairings, show cooking, sailboat tours along the Galician coast, visits to artisans, museums, pazos, unique villages, old mills, and wellness activities like workshops on massage, yoga, and meditation. In addition to its 51 guest rooms, it has event spaces that can host 300 people, with elegant decorations and exterior windows which let in natural light and offer views of the green spaces. One such space is theSalón da Fonte (Fountain Hall), with direct access to the garden and a covered veranda, a dynamic interior and exterior space that can be used any time of year. From the landscaped terrace, you can access the Salón do Rio (River Hall), which is ready to host a cocktail party, outside meal, or outdoor activity. Situated in the old mill of the paper factory, surrounded by large windows with views of the river and a three-sided wooden roof, the Salón do Muíño (Mill Hall) is a place with its own personality Its crystal chandelier that complements the wooden beams on the ceiling, the versatility of the furnishings, and the trees and plants create a natural ambiance. With access points from the car park and the Filigrana Restaurant, connected to the landscaped terraces and featuring a bamboo forest, is El Invernadero (The Greenhouse), a unique space that combines luxury and nature.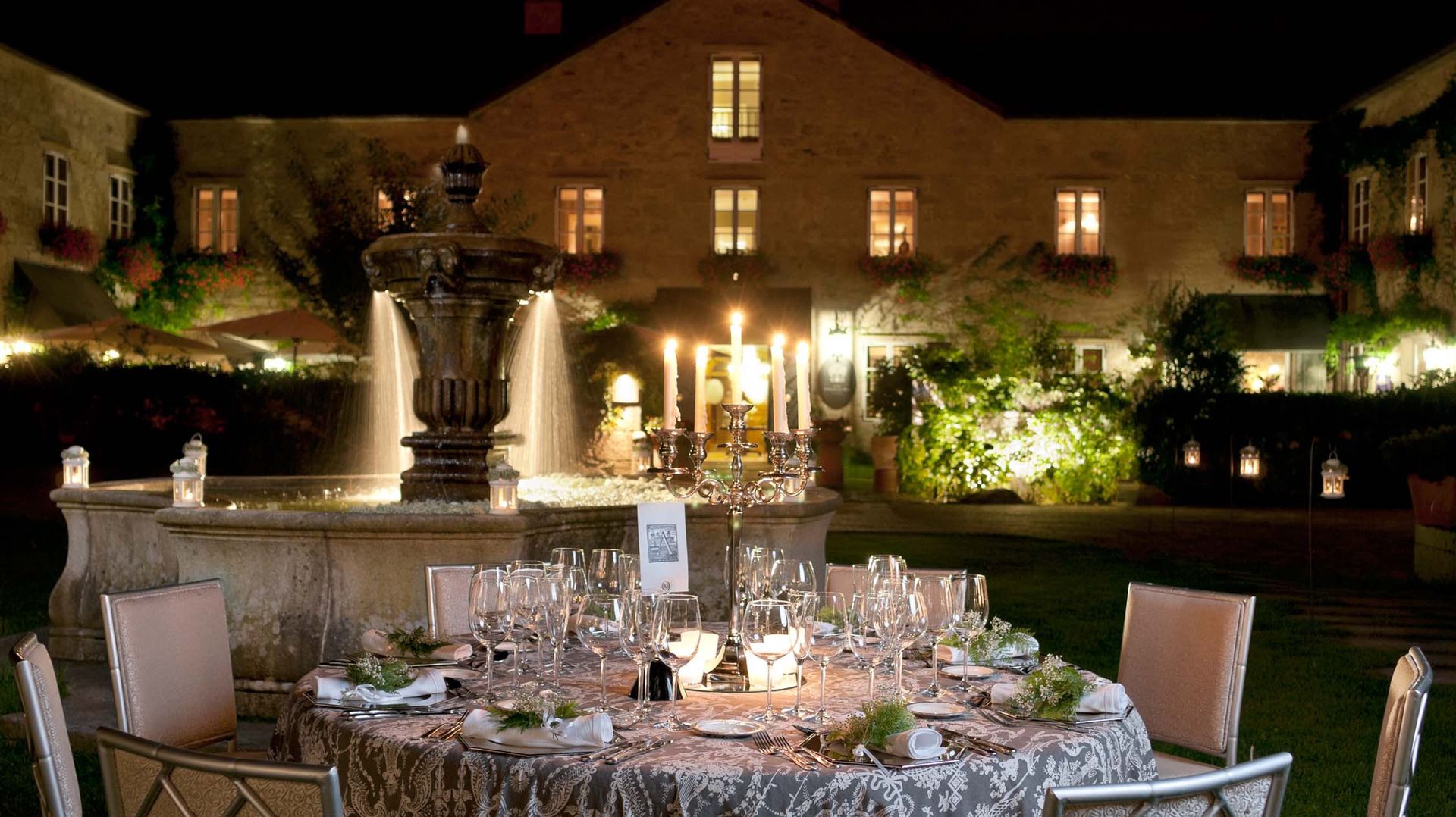 Eurostars Gran Hotel La Toja 5*, in Pontevedra
This is a hotel with more than a century of history, located in the natural setting of the Arousa estuary, with ocean views. It is the only five-star spa resort in Galicia, with luxurious facilities that allow you to treat yourself to the many benefits of its hot springs. Its 199 guest rooms make it one of the highest-capacity lodgings in Galicia. The hotel also offers a robust gastronomic experience with two restaurants, Terraza Vista Mar and Casa do Marqués, and a conference and exhibition hall that can hold more than 300 people. Not to mention 3 meeting rooms, 3 banquet halls, and social halls. From there, you can reach Toja Island using the nineteenth-century bridge that passes through a dense stand of pine trees or by taking a catamaran trip.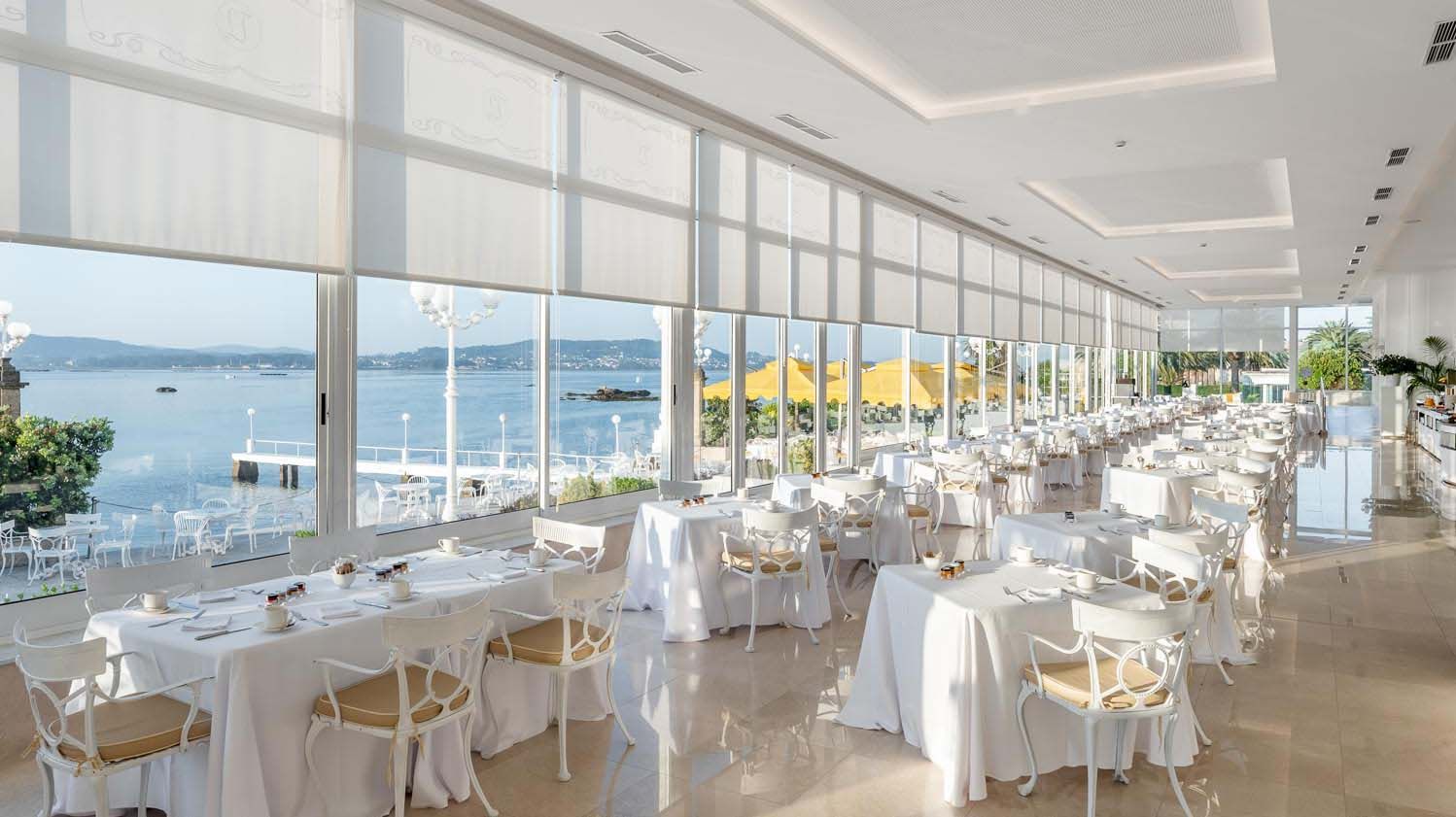 Balneario de Mondariz, in Pontevedra
Inaugurated in 1873, this resort was a pioneer in the Galician spa industry, a referent among the European Thermal Towns network. Nestled in the Tea River valley, surrounded by nature, it has three historic buildings constructed with granite, 194 guest rooms, and a golf course. The Balneario de Mondariz has a congress and convention space that features the huge Infanta Isabel auditorium, its flagship venue with 400m2 and a stage, in addition to 8 halls with varying capacities and characteristics. All of the event infrastructure is located in the Palacios building, and organisers have the possibility of having exclusive access to the entire building. In addition, the building has a separate reception area for the technical secretariat of congresses, discotheque for private events, and open-air spaces for cocktail parties or exhibitions. The gastronomic allure is sure to make your company event a successful one. To this end, its offer is based on traditional Galician products, with a very original option: the Romería Gallega, a traditional cocktail party with typical decorations and live preparation and tastings of the most widely known products of Galician gastronomy.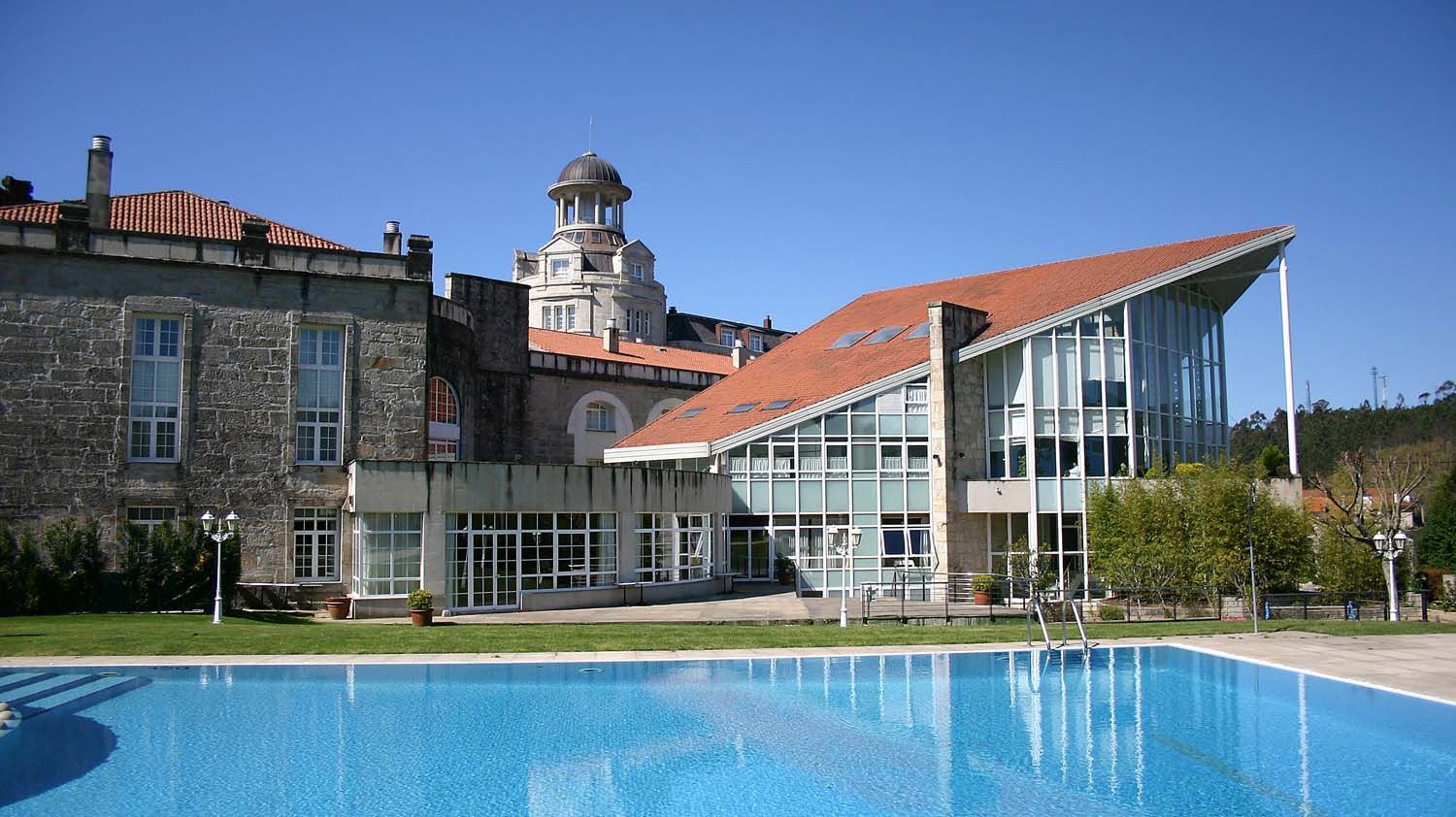 Pazo Los Escudos, in Vigo
Also known as Finca Miramar or Pazo de Sensat, this is the best 5-star hotel in Vigo, with architecture dating to the 15th century and a collection of heraldic coats of arms throughout the gardens and walls with battlements. That is where it gets its name, as "Los Escudos" means "coats-of-arms". The 54-room hotel is near the Carril beach, an area known for its beauty and excellent seafood. Its façade is decorated with scallop shells and on the inside, it features an impressive wooden staircase and stone lareira (old Galician kitchen). The building houses the remains of the old well, stables, a dovecote, and the gatekeepers' house, along with a garden displaying the 101 stone coats of arms. This pazo plays host to events, conventions, meetings, and sports tournaments. It has different spaces, such as the Rande Hall (90 people), Carril Hall (100), Great Hall (400), and another two large halls able to host 130 and 225 guests, respectively, all with views of the estuary.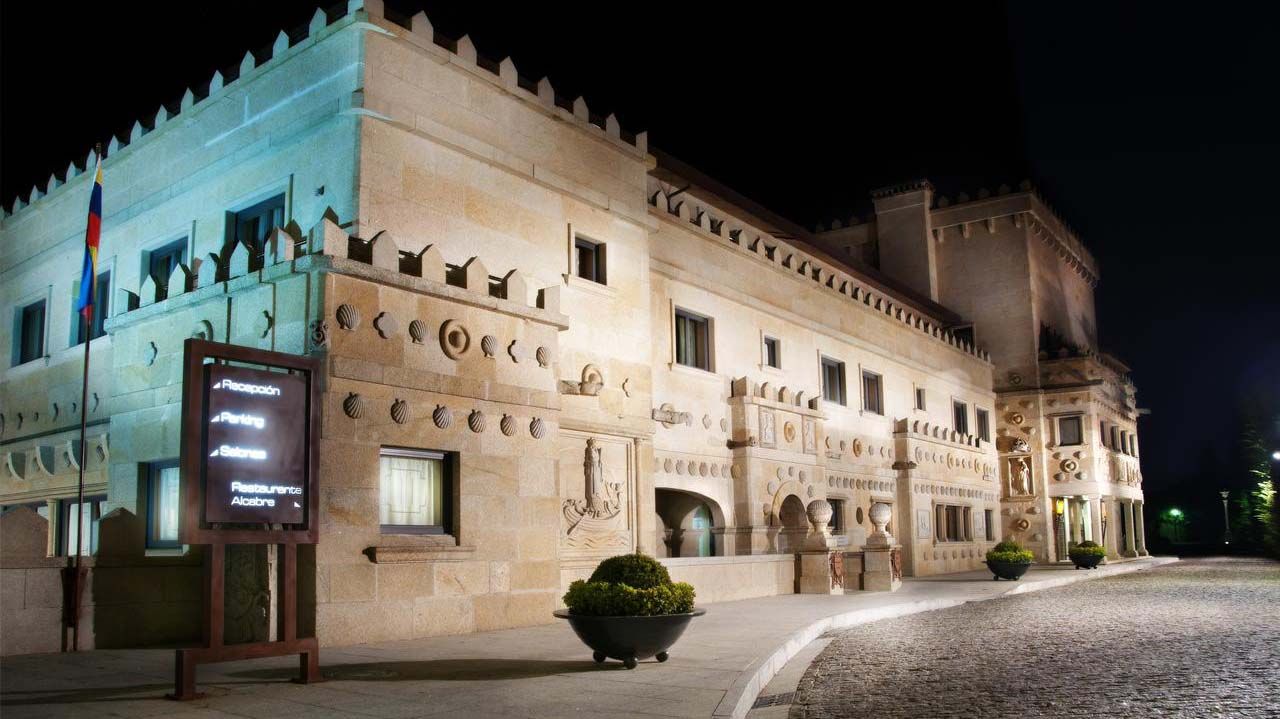 Gran Nagari Boutique Hotel, in Vigo
Located in a revamped historic building, this 5-star hotel with classic and oriental influences was the first boutique hotel to be opened in the centre of the city. With seven stories and a penthouse, it has 63 loft-type rooms featuring the latest technology and home automation. Luxurious details and personalised, exclusive service characterise this establishment, which also has event spaces like the Reconquista Hall (60 people), Compostela Hall (32), the Gold Master Suite meeting room, a business area for small meetings and product presentations, and the Skyline on its top floors, with views of the Cíes Islands and Vigo estuary, where truly unique events can be held. Its focus on avant-garde gastronomy is reflected in its Alameda XXI restaurant, with areas that can be rented out for exclusive use. Its menu combines traditional and modern influences. There is also the Manhattan Wine and Lounge, where guests can enjoy tapas and pinxos. The hotel offers Nagari Destination Management, an exclusive service to create personalised experiences based on cultural or landscape-based thematic areas like history or nature routes.