10 unique accommodations for events in Galicia
On an island, in a lighthouse, in bubbles under the stars, in monasteries, in pazos (traditional Galician houses), or in palaces, these are some of the unique options for accommodation that you will find in Galicia. These are places where you can host exclusive events in petit comité, surrounded by nature, the sea, culture, history, and tradition. In difficult times, we have multiple options to make everything easier for you.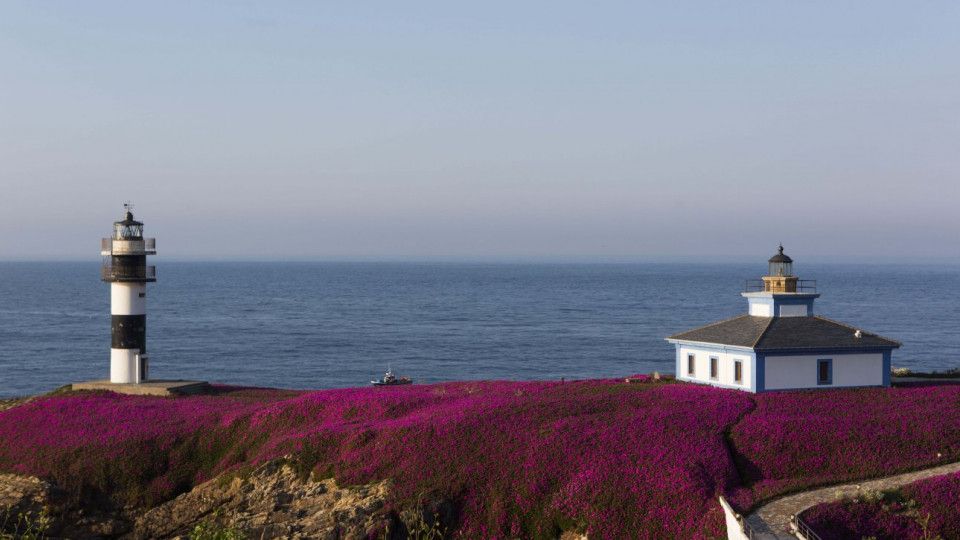 In Oleiros (A Coruña) we have the NOA Boutique Hotel, a place where the sea practically enters the guest rooms. Located in a privileged enclave opposite the Castle of Santa Cruz, 10 minutes from the A Coruña airport and 45 minutes from Santiago de Compostela, this charming 32-room hotel has spaces for business meetings, product and car presentations, team building events, and more. Many laboratories and businesses have held events there, reserving the whole hotel or a floor of it for the occasion. Its available spaces include the Noa hall, with 80m2 and huge windows that let in spectacular natural light, the 400m2 multi-use hall with its terrace, and the 4th-floor rooftop (300m2) with an infinity pool that melts into the sea, for outdoor cocktail parties and receptions.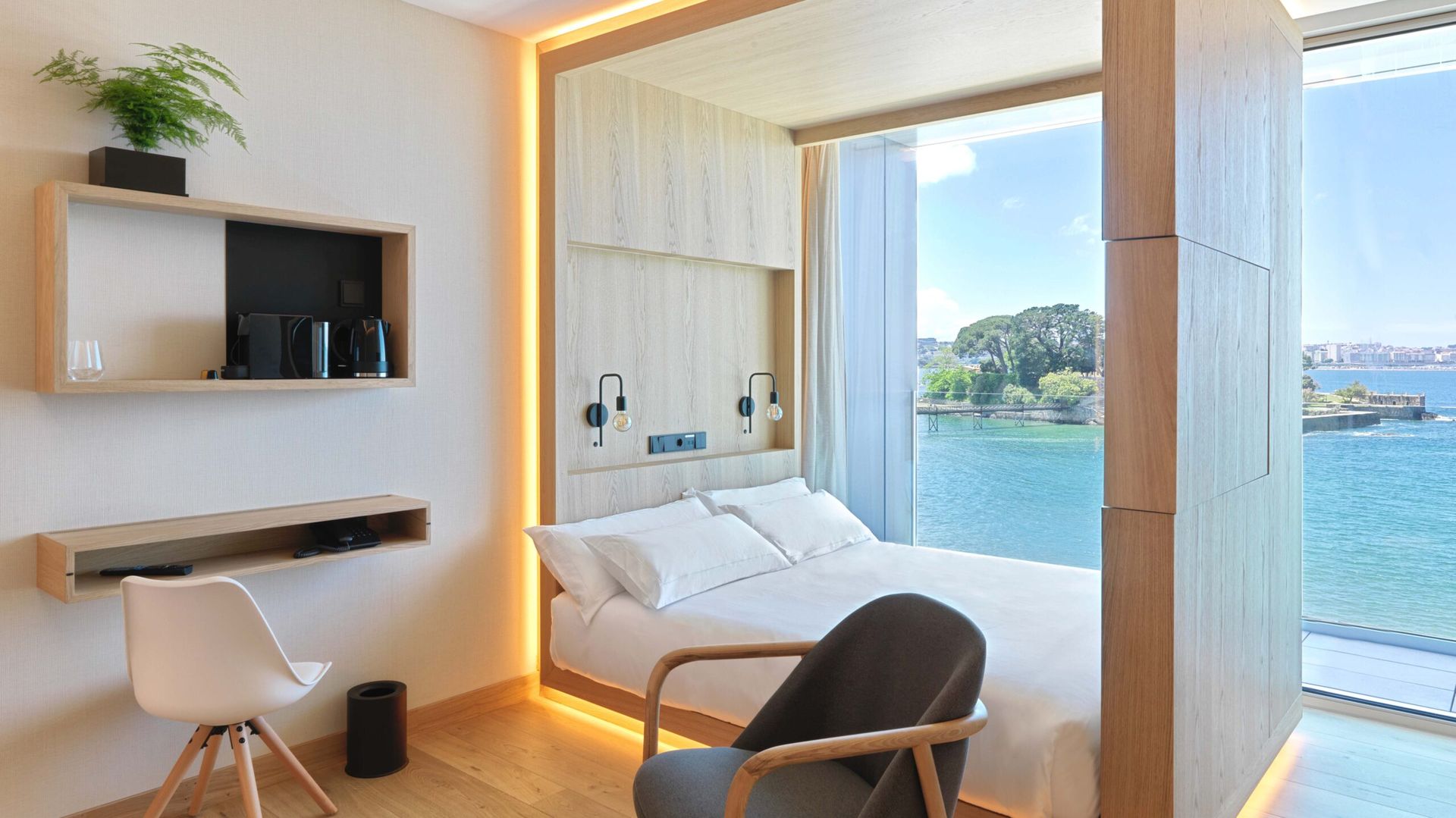 NOA is cosmopolitan without losing any of its genuinely Galician identity and it focuses on sustainability, exclusivity, and ecology in an inspiring, relaxing, and sophisticated environment. Its Bed, Bath, Breakfast & MICE philosophy makes these four everyday actions into an unforgettable moment. Are you ready to live authentic NOAexperiences? In addition to offering accommodation and event spaces, they organise activities to explore and enjoy the area of Oleiros and the Castle of Santa Cruz, which is perched on a small island that's connected to the mainland by a wooden walkway. This area features lookout points and parks like José Martí Park in Santa Cristina, As Galeras Park in Bastiagueiro, and Da Lagoa Park in Mera. There are also places like the Monumento Natural Costa de Dexo-Serantes, a protected natural area due to its ecological importance, and the Aula de Mar (Classroom of the Sea), a nature interpretation centre. You can also visit A Coruña, witnessing its day-to-day life, eating regional tapas, and learning about its people.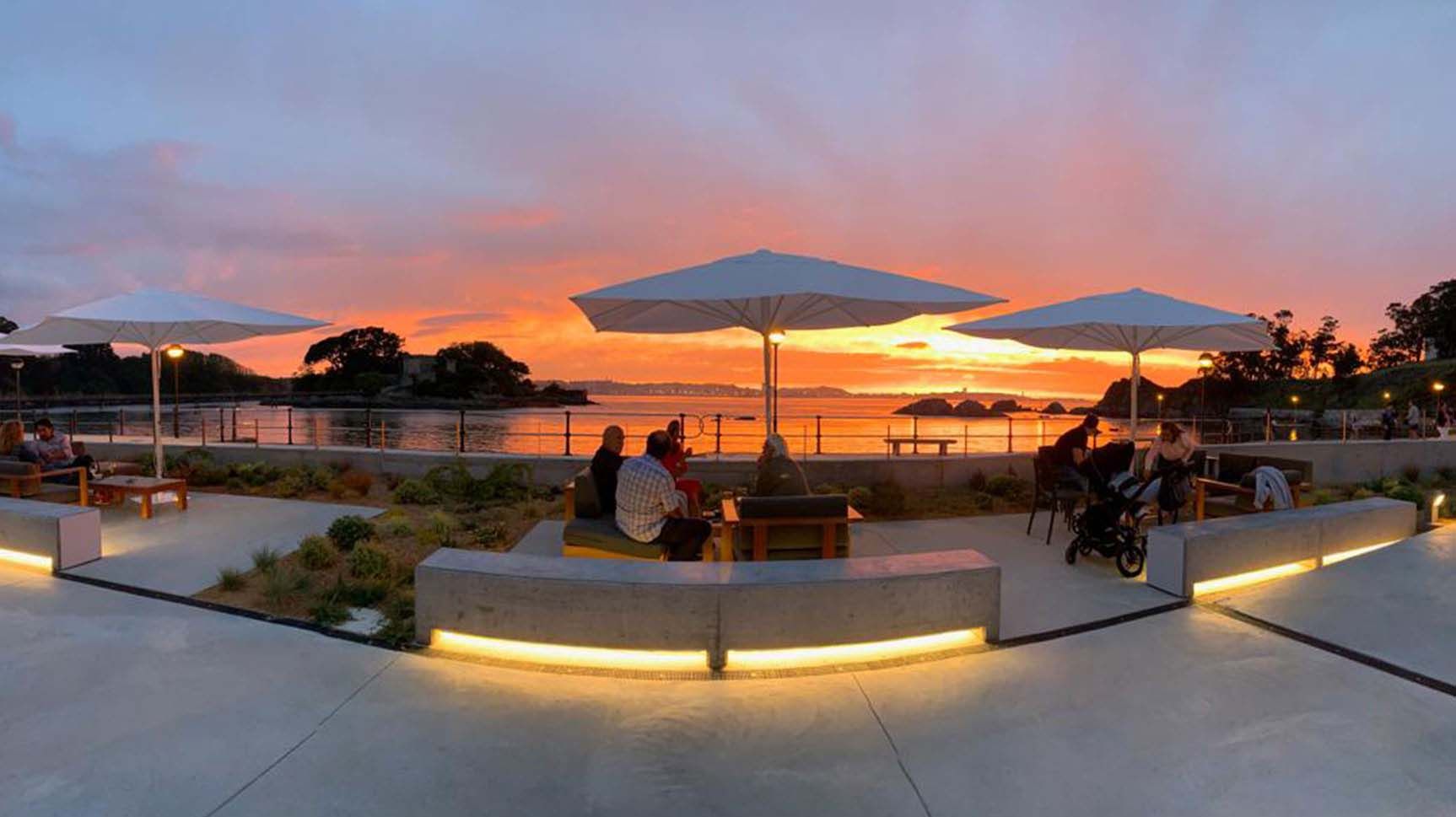 How about sleeping in a bubble under the stars? At Albarari you can "camp" in air bubbles designed to let you survey the night sky from inside, enjoying the environment in an immersive, respectful way. Albarari means "natural space" in Arabic, and it is an eco-innovative, sustainable concept to have new "glamping" experiences without giving up all the creature comforts. Albarari started in 2017 with the opening of its A Coruña resort, called Campo Stellae, located 50 metres from the As Margaritas beach in Oleiros. The idea was so well received that in 2019 they increased the number of bubbles and created Polaris, the resort in Sanxenxo, located in an albariño vineyard in the heart of the Rías Baixas region. There are 5 bubbles in each resort, every one equipped with a canopied bed, bathroom, climate control, and private garden. The stay includes an artisanal breakfast, and you can enjoy dinner in the garden. Every room features a high-precision telescope for surveying the sky or land and a star map, along with astronomy guides. Experiences that can be hosted here include open-air cinema events or screenings, conferences, workshops, seminars, and other small events.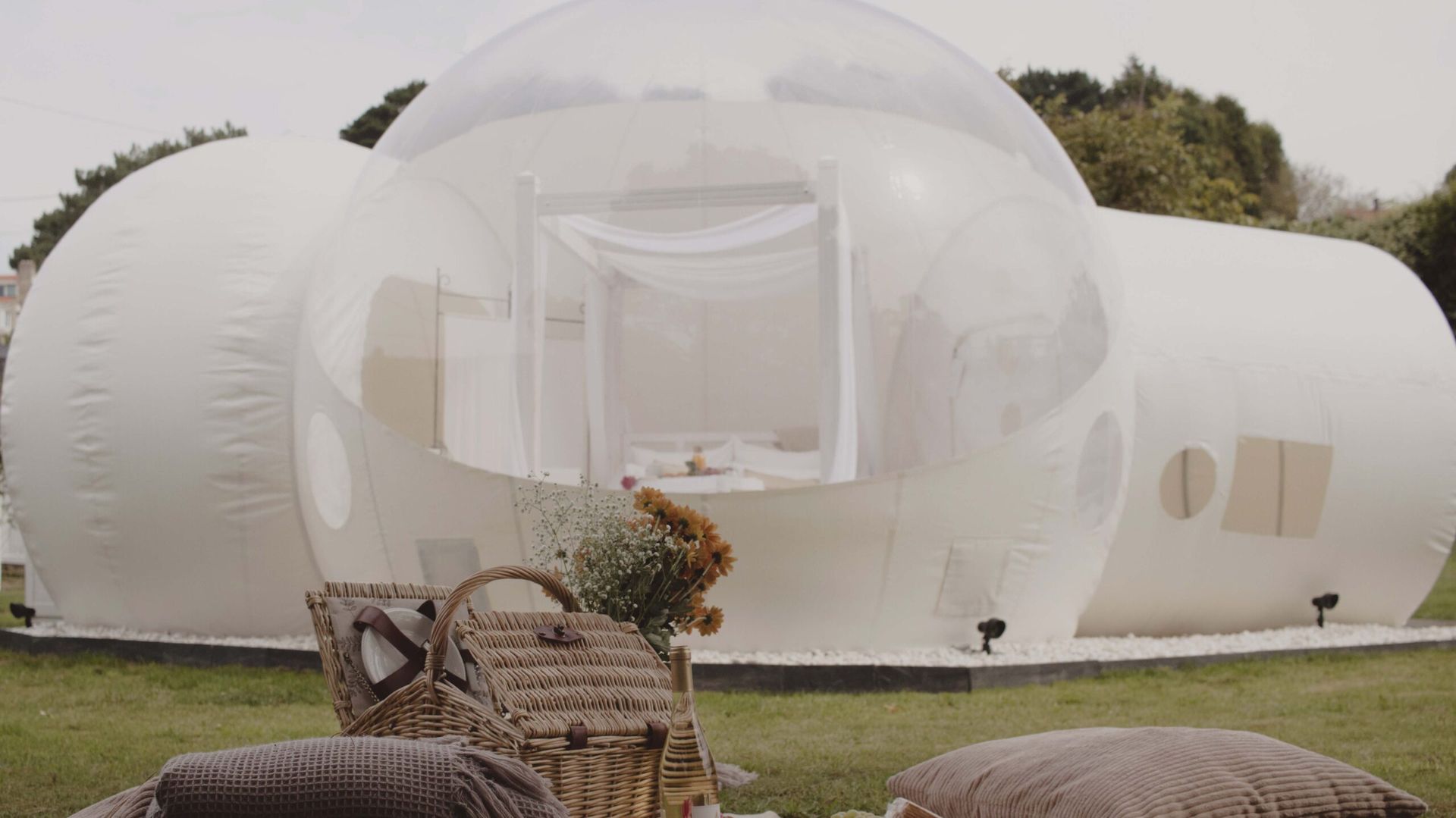 If you are looking for a special, different, and unique place for your group to stay at "the end of the world", take them to O Semáforo de Fisterra. Located in Cape Finisterre, this lighthouse has 6 rooms at 138 metres above sea level. After undergoing a renovation in 2016, this old marina lookout point has been converted into a one-of-a-kind boutique hotel and restaurant. This old lighthouse also has terraces overlooking the cliff with endless views, and several different halls and exclusive spaces to hold events at the "end of the world". The incredible sunsets and huge waves that make the lighthouse foghorn sound off will transport you to another era, to times where today's legends were born. You can also enjoy O Refuxio, a space that offers shelter to pilgrims, with views of the famous Centolo "sculpture". This is a gastronomic space based on the concept of a modern sailor's tavern. To complete the experience, you can visit the Costa da Morte interpretation centre, after which the last kilometre of the Camino de Santiago pilgrimage starts. There you will learn about the origin of Finisterre and its Cape: the End of the World lookout point, legends from the "Coast of Death", and everything related to this peculiar region. Companies like BMW and Banco Santander have chosen this place for their events, along with laboratories and the Gibraltar Race, an event for motorbikes coming from Poland.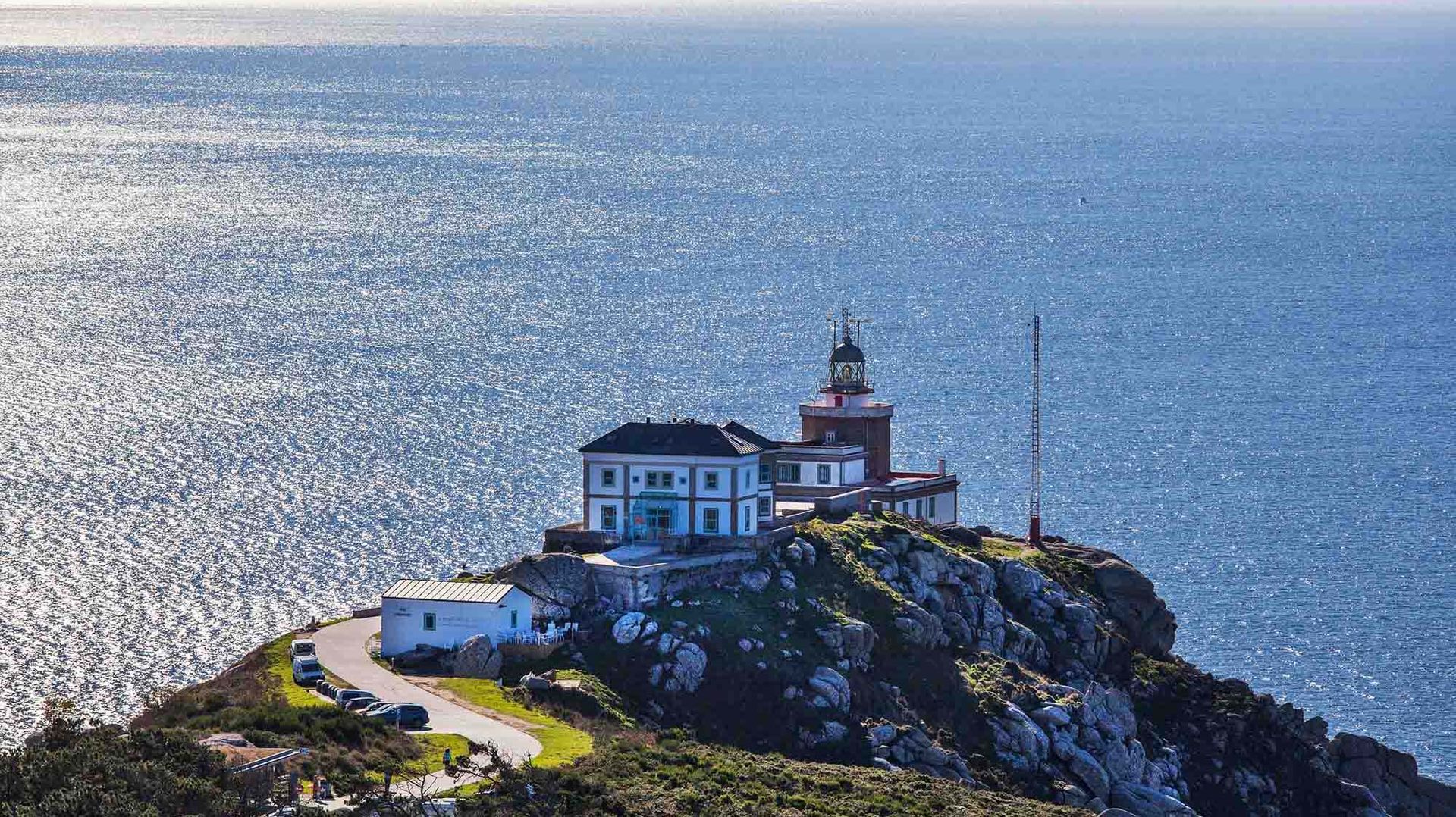 Thirty-five kilometres from Santiago de Compostela, in Arzúa (A Coruña), you will find the Pazo de Brandeso Casa Rural & Country Club, with 14 guest rooms and an additional house on 12 walled hectares. The Pazo has a chapel, loft, large granary, and several outbuildings, surrounded by gardens with boxwood hedge labyrinths and two of the oldest oak groves in Galicia. The Brandeso name is connected to the world of literature, since the pazo was the favourite retreat of two great Galician writers: Valle Inclán and the Countess of Pardo Bazán. It's a great place for initiatives and conventions related to the Camino de Santiago pilgrimage route, which is a source of inspiration that laboratories and insurance companies have used to conceptualise their events and complementary activities. Besides its rooms and suites, Pazo de Brandeso boasts huge exterior spaces that can be used to put up tents or other structures, in addition to halls for smaller events hosting 20-30 people.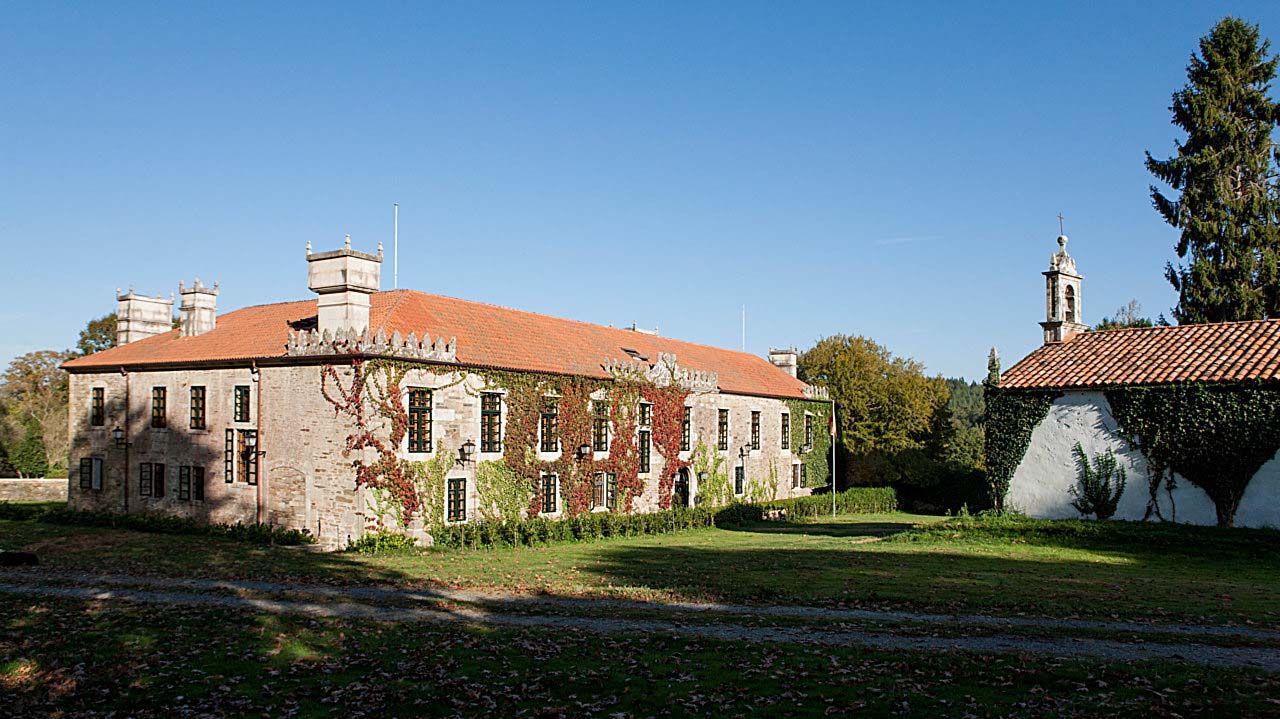 Another unique lodging option where you can breathe in the pure Galician mountain air is the Casa Grande do Bachao in Santiago de Compostela. This 18th-century architectural complex is made up of two houses, hórreos (historical granaries on legs), cruceiros (Galician stone crosses), and large stone terraces. The Casa Grande was renovated two decades ago and within its centuries-old walls there are halls with different ambiances, in addition to ten guest rooms, each decorated uniquely with fine woods, cheerful fabrics, and traditional materials like linen. Curiously, the rooms don't have numbers but rather bear the names of historical figures associated with Santiago de Compostela and its St. James tradition. This way, it conveys the thousand-year-old, magical history of the area, from the arrival of St. James the Apostle to Iria Flavia in a stone ship to today's pilgrimages. The Casa Grande has an expansive property of 14,000 m2 that goes down to the Tambre River, surrounded by an immense forested area and nestled in the foothills of the Bachao Mountains. The main feature of the space is its large terraces, held up by stone walls, where a cocktail party or dinner can be enjoyed against the backdrop of a beautiful sunset over the mountains. To complete your stay and the event, we recommend you do a route, either by bicycle or on foot, exploring some of the multiple hiking trails and paths that criss-cross the Bachao Mountain, being sure to visit the ruins of the thousand-year-old Celtic fortress there. In collaboration with specialised companies and instructors, nature activities like rafting and kayaking can be organised, along with visits to Santiago de Compostela or other nearby places like the Costa da Morte and Rías Baixas, among others.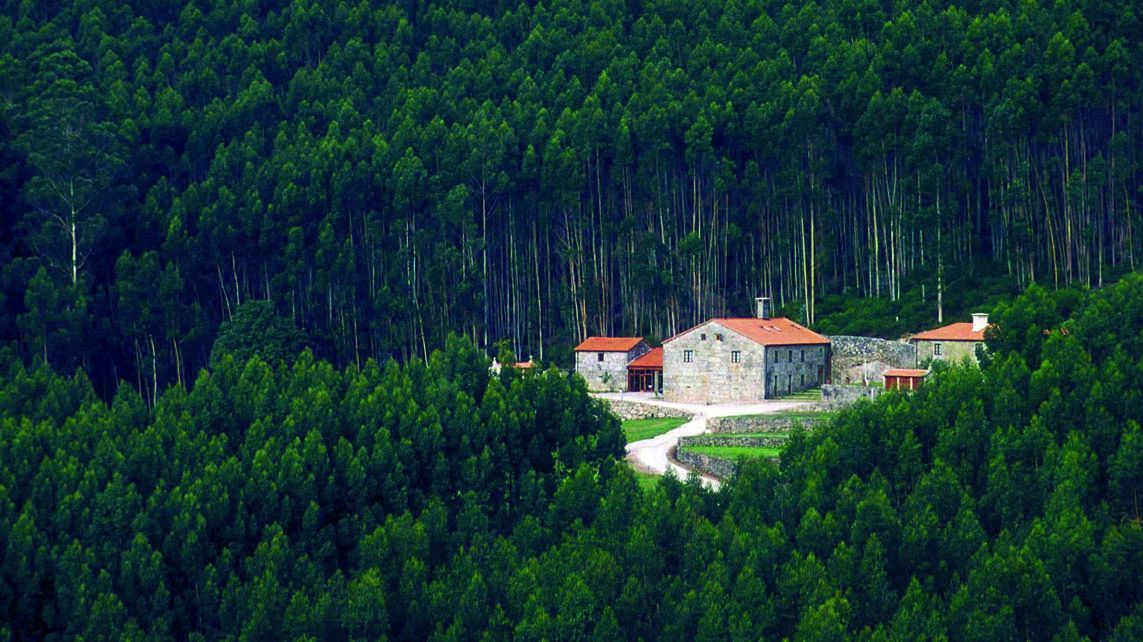 If you liked the idea of sleeping in the middle of the countryside, how about sleeping in the middle of the sea? You have the opportunity to spend the night in a converted lighthouse on Pancha Island in the middle of the Ribadeo estuary (Lugo). Built in 1857 as Spain's first lighthouse, it was turned into a guest house in 2017, respecting its original essence and maintaining the original elements. The Pancha Island Lighthouse is a square building that houses just two 40m2 apartments overlooking the Cantabrian Sea. It is a house with 86m2, six square metres of which belong to the lighthouse tower.  It can't hold a large group of attendees, but you can visit it and enjoy this unique building. The construction features a spiral staircase that goes up to the lighthouse lantern, 13 metres high, from where you can see the hexagon-shaped glass dome. Now, preparations are being made to open a café space with chill-out areas and terraces where larger events can be held, since the island where the lighthouse is located has 4,500m2 of usable space. Close to this area we have the famous As Catedrais beach, recognised as a natural monument and specially protected because of its uniqueness and beauty.
Accommodations in the heart of the Ribeira Sacra
Surrounded by the Miño and Sil rivers, in a natural environment featuring breath-taking beauty, there is a palace full of history, the Eurostars Pazo de Sober. Nestled among 7th-century defensive walls and 20,000 m2 of gardens, you'll be able to sleep in Galicia's largest palace, the legacy of the López de Lemos noble family. Among the ramparts, Roman windows, and turrets we can find 43 rooms, each of them different. It also has halls of various sizes that can be used to host events: Albarello Hall (30 people), Los Arcos Hall (45), Magna Hall (240), in addition to the Glass Patio terrace, from where you can enjoy the views of the valley.
In the area surrounding the town of Sober, in sharp contrast to what its name suggests, you can take part in activities that are especially linked to viticulture and oenology. There are numerous bodegas and vineyards that stand along the banks of the rivers here. One of the main attractions in the area are the catamaran tours, which allows you to explore how the grapes are grown here on steeply inclined terrain that is sometimes practically vertical. Around Sober you will also find overlooks, hiking trails, and monasteries that make up part of the Romanesque Route (Ruta del Románico).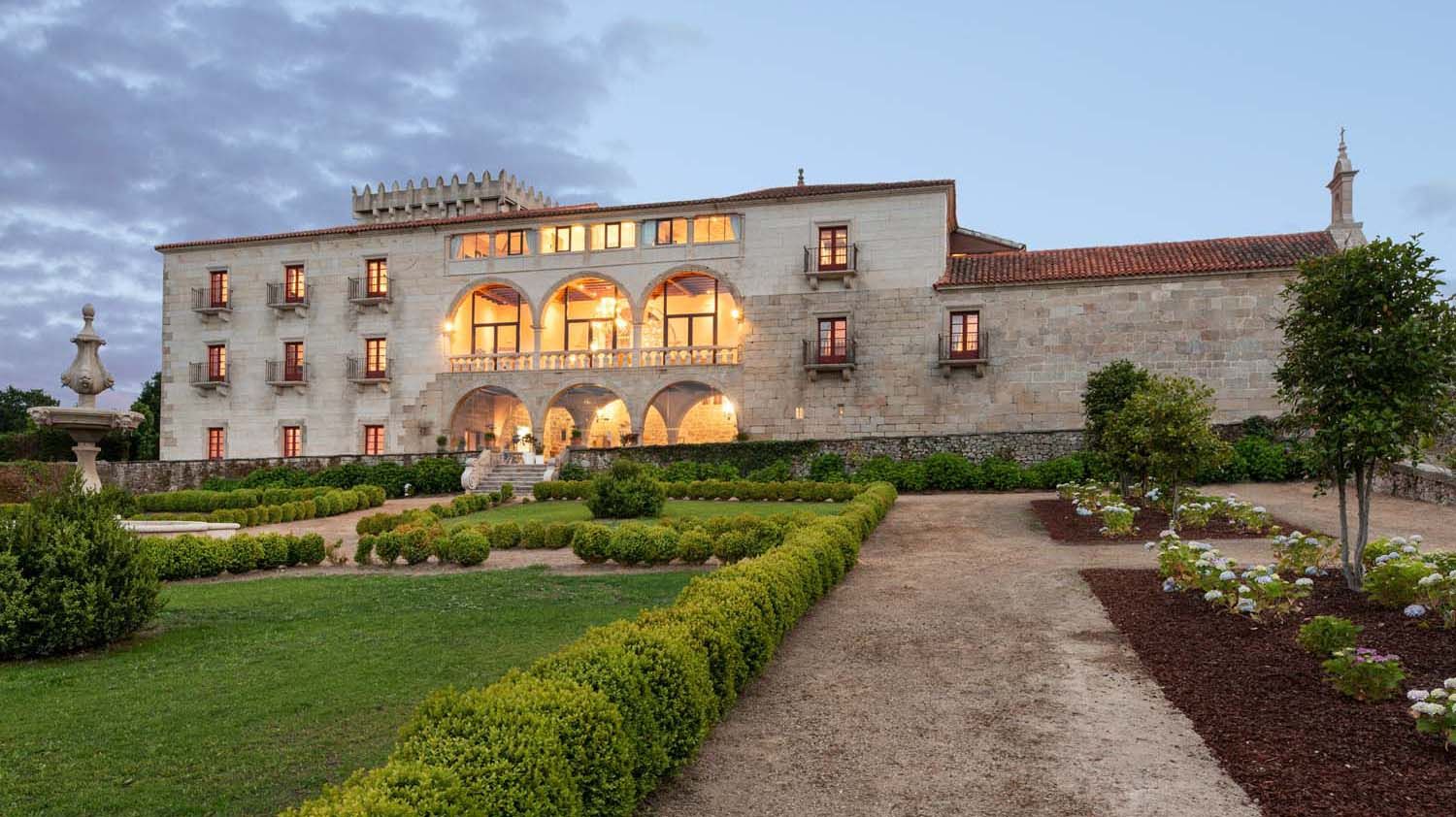 In Nogueira de Ramuín (Ourense), hidden among the trees in a stunning natural space we can find the Monastery of Santo Estevo, converted into a Parador (a special kind of luxury hotel located in a historic building). Dating back to the 6th and 7th centuries, with Baroque and Romanesque features, it has three large cloisters: a Romanesque one, a Gothic one, and a Renaissance one. You can take a stroll through each of them and organise events here, surrounded by the beauty and majesty of this building, which was declared an Artistic Historic Monument in 1923. It has 77 rooms, each of them different. Some of them overlook the green landscape and the impressive Sil Canyon. In the Parador, you can enjoy a restaurant with a terrace next to the stand of chestnut trees, a café with a terrace in the cloister by the entryway, large halls, and expansive gardens, so that your event is infused with tranquillity and peace and offers your guests beautiful views.
The Parador Santo Estevo was converted into a medieval scene for an event organised by the Valencian company Edicom. This congress hosted more than 130 people, transforming the Cabaleiros cloister of the Parador into a fairy-tale setting, with medieval music, period tableware, and decorations that delighted the attendees, transporting them back to another era.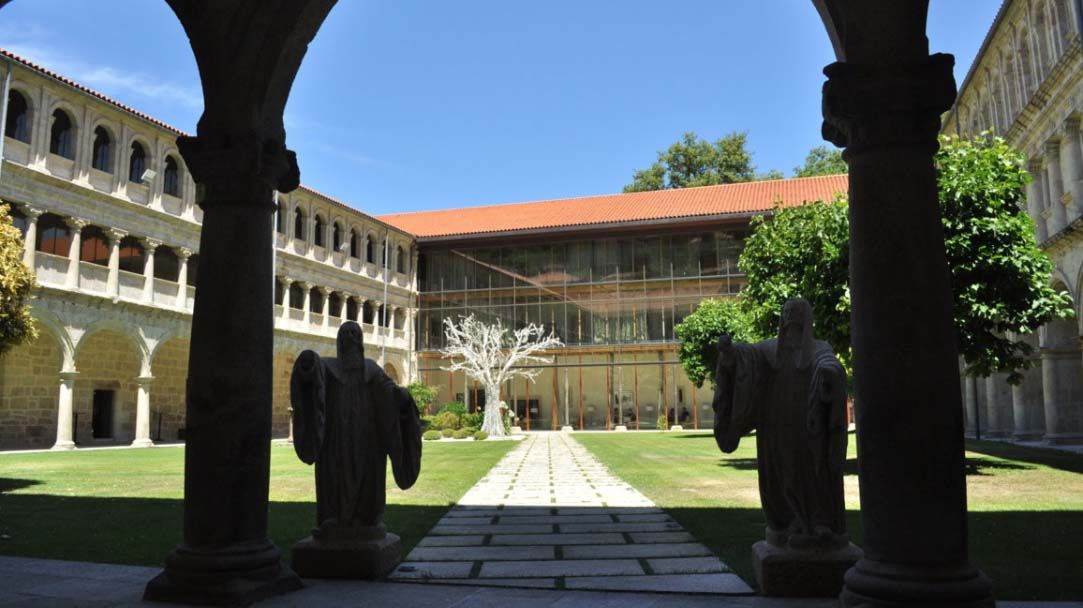 Continuing with the monastic accommodations, in Leiro (Ourense) we can find the Eurostars Monasterio de San Clodio, a Cistercian monastery dating back to the 7th century. It features two cloisters with elements of the Renaissance and Baroque styles, and the beauty and original structure were kept intact when this was converted into the first monument-hotel in Galicia. It is surrounded by gardens and boasts a historic setting in the wine-growing region of the Ribeiro. Its 25 rooms with high ceilings and stone walls offer views of the vineyards and the forest. There are also 5 event halls with different capacities.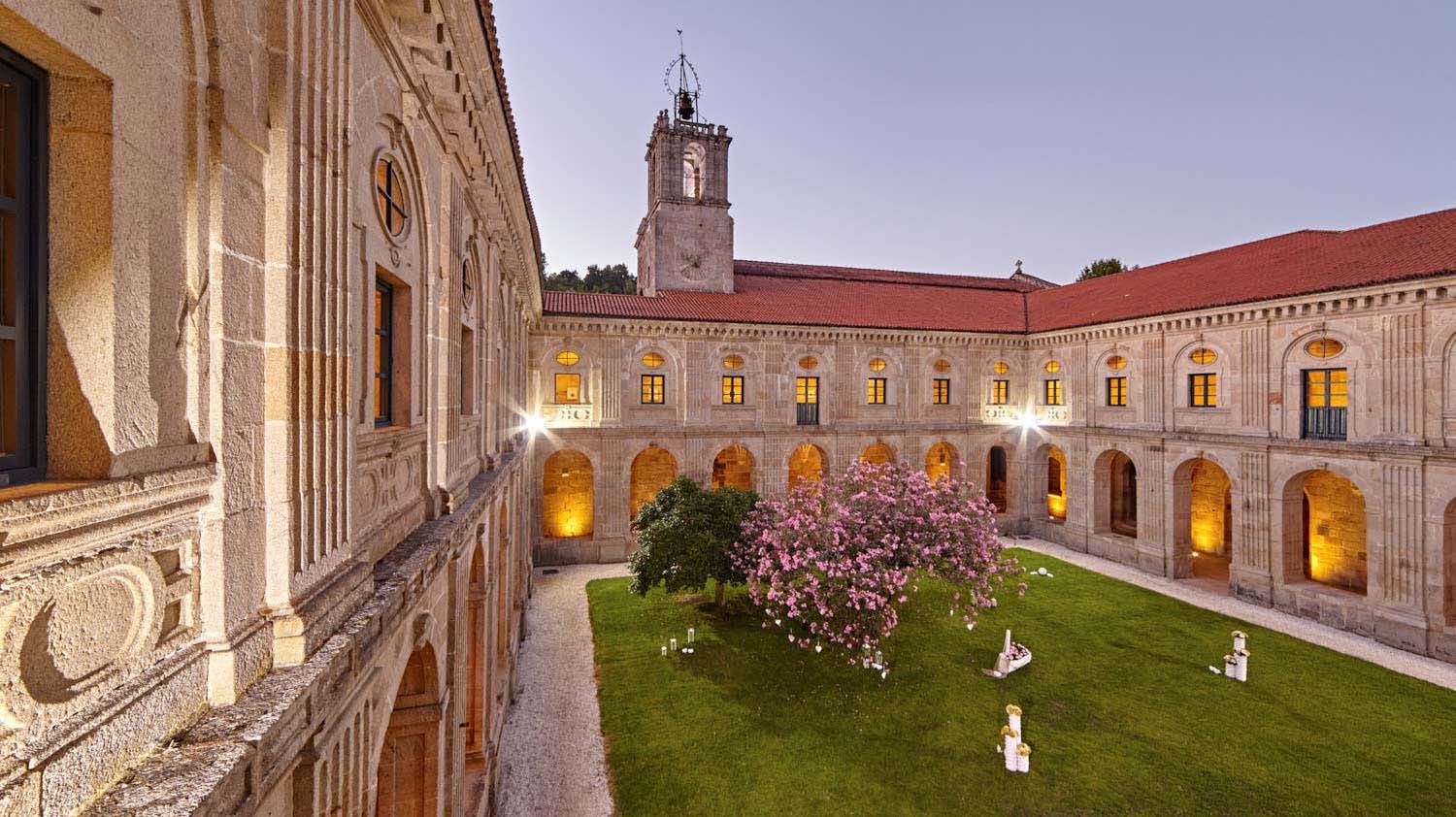 Moving on to a different province, 10 minutes from the centre of Vigo and its airport is the Rectoral de Cobres, a house built in 1729, situated atop a hill overlooking the estuary of Vigo. Between the mountain and sea, this hotel has 8 rooms and a refurbished hórreo (granary on legs) called "la Paneira", which is its hallmark. Inside, there is a hall that can hold 50 people for a banquet or 80 people with a classroom style set-up. It has a large, tiered garden that slopes downwards to the sea and a granary with 150 m² that is used to hold events. There is also a glass-enclosed terrace that can host 120 people.