Galicia looks to innovation to adapt to the new times
In-person events will be back eventually, but in the short term, the strategy must be to reinvent ourselves and focus on innovation, cutting-edge technology, and creating tools that facilitate virtual and/or hybrid events. Galicia was already a strong MICE destination, and it now positions itself as an attractive virtual MICE destination. Large and important spaces have incorporated sets with everything you need to recreate the normal set-ups for meetings and conferences, providing the viable alternative sought by the events sector. Here are some of the options for you to hold a successful event in Galicia that complies with all of the safety measures.
Galicia MICE Set in the CINC Building in the City of Culture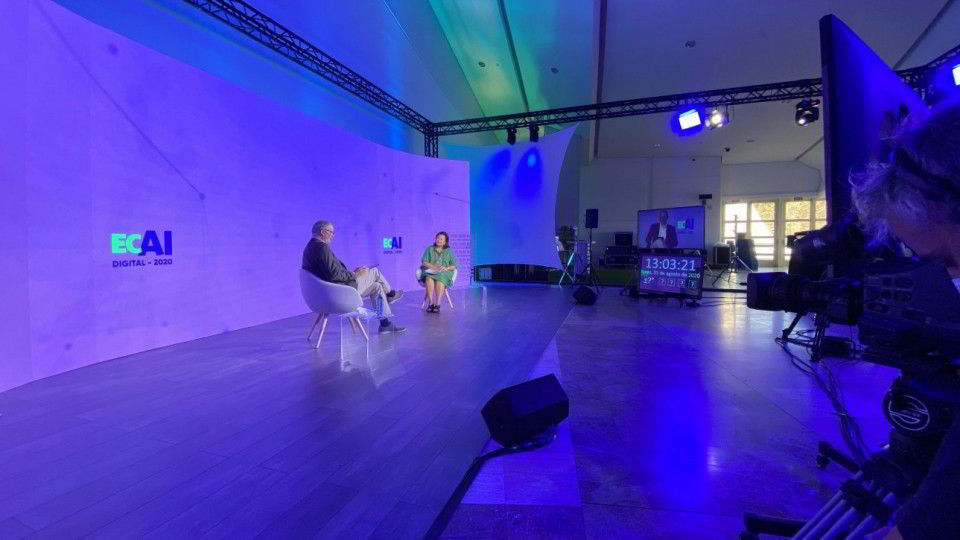 In Santiago de Compostela, you will find this multifunctional space dedicated to knowledge, culture, and creativity. CEGA has developed a "project factory" that has also been able to adapt to these new times, hand in hand with Galicia MICE, who has created two sets with have different audiovisual set-ups. Set 1 boasts a curved LED screen that can be used to reproduce interactive backgrounds, to create floating windows, for PIP, and to show videos or presentations in 16:9 formats. Set 2 has two huge monitors which can be used to display animated backgrounds, videos, and presentations. Both sets have designer furniture, which, just like the sound equipment, cameras, video equipment, lighting, and expert technical team, can be expanded or adapted according to the needs of the event.
These two sets, which are similar to what we see on TV, have an area for an in-person studio audience (for a reduced number of people and with all of the safety measures required by current guidelines) to be able to put on hybrid events. In one of these, part of the audience can be there in person and the other part can connect either via streaming (up to 1000 people) or via video conference (up to 500 people), and this capacity can be increased if needed.
The ECAI2020 event, with more than 3500 scientists, tried this stage out for the first time. Under the slogan "Paving the way for artificial intelligence centred on human beings", the event provided the researchers with the opportunity to experience a virtual social programme. This allowed participants from more than 35 countries to have cultural and gastronomic experiences and intensely feel the Camino de Santiago for the day. All of these activities were done from this set.
Santiago de Compostela Conference Centre Set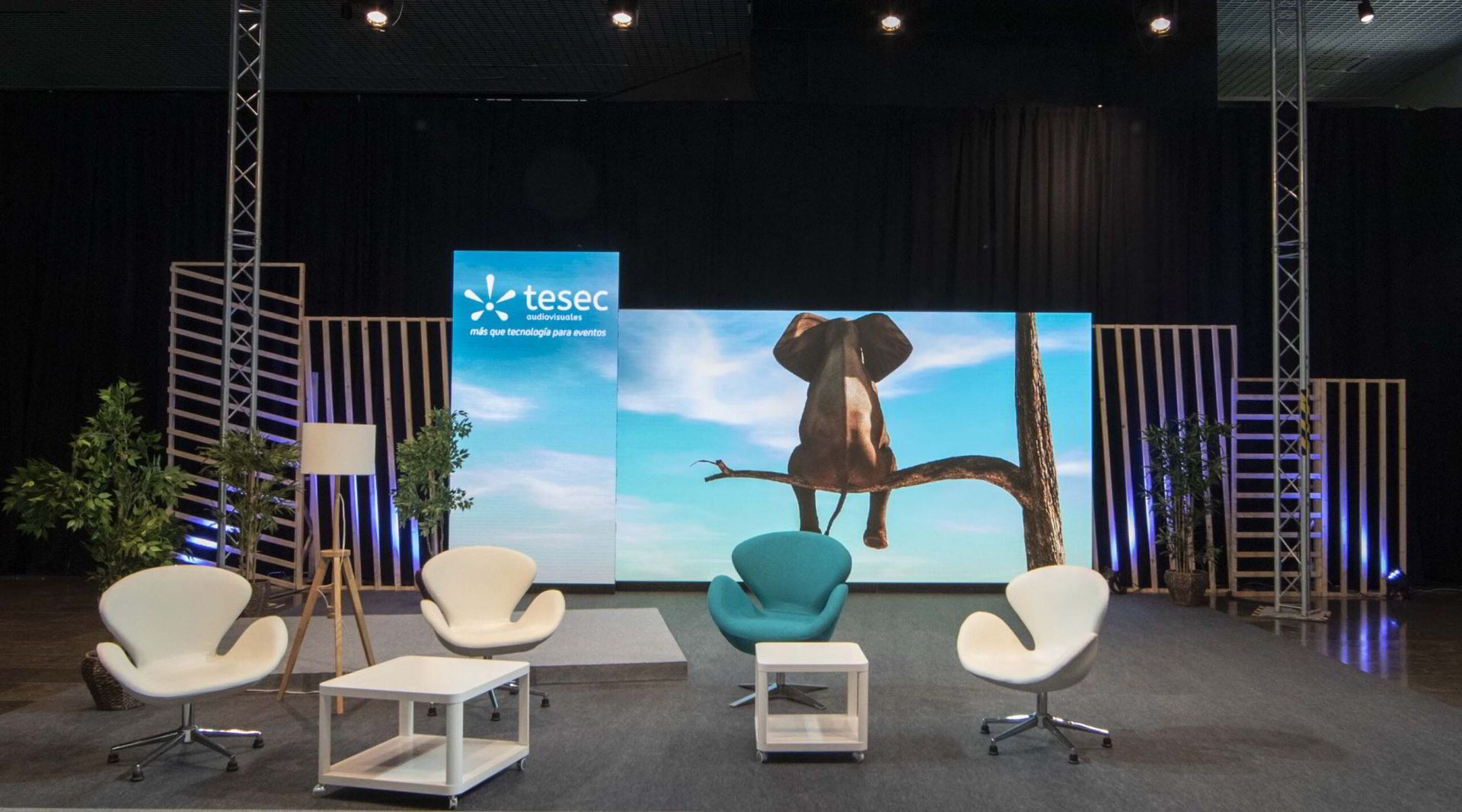 The TESEC set has been installed in one of the large halls of the Conference Centre, with a surface area of 10×6 metres. It allows for the organisation of online events where the only ones present are the speakers and the technical team. At the same time, given the size of the space, it can hold up to 300 attendees while easily respecting the minimum safety distance, flexibly permitting an in-person or hybrid event. Boasting high-quality HD broadcasting, its technical equipment consists of 3 robotic cameras, an LED screen (5 metres x 3.5 metres and 2.6 pixels), an LED totem behind the podium area (4 metres x 2 metres and 3.9 pixels) for presentations or to connect speakers that are not on site, lateral LED totems for decorations, and several screens so the speakers can see their presentation without needing to turn around. There is also furniture, a seating area, podium, sound equipment, lighting, and decorations. This set was built to be permanent, which will allow for flexible costs for clients.
Even though it was recently installed, it has also been used for the press presentation of the Fairway2021 event, the International Forum of the Camino de Santiago, which will also hold its fourth edition here from 7 to 9 March 2021.
Hotel OCA Puerta del Camino Set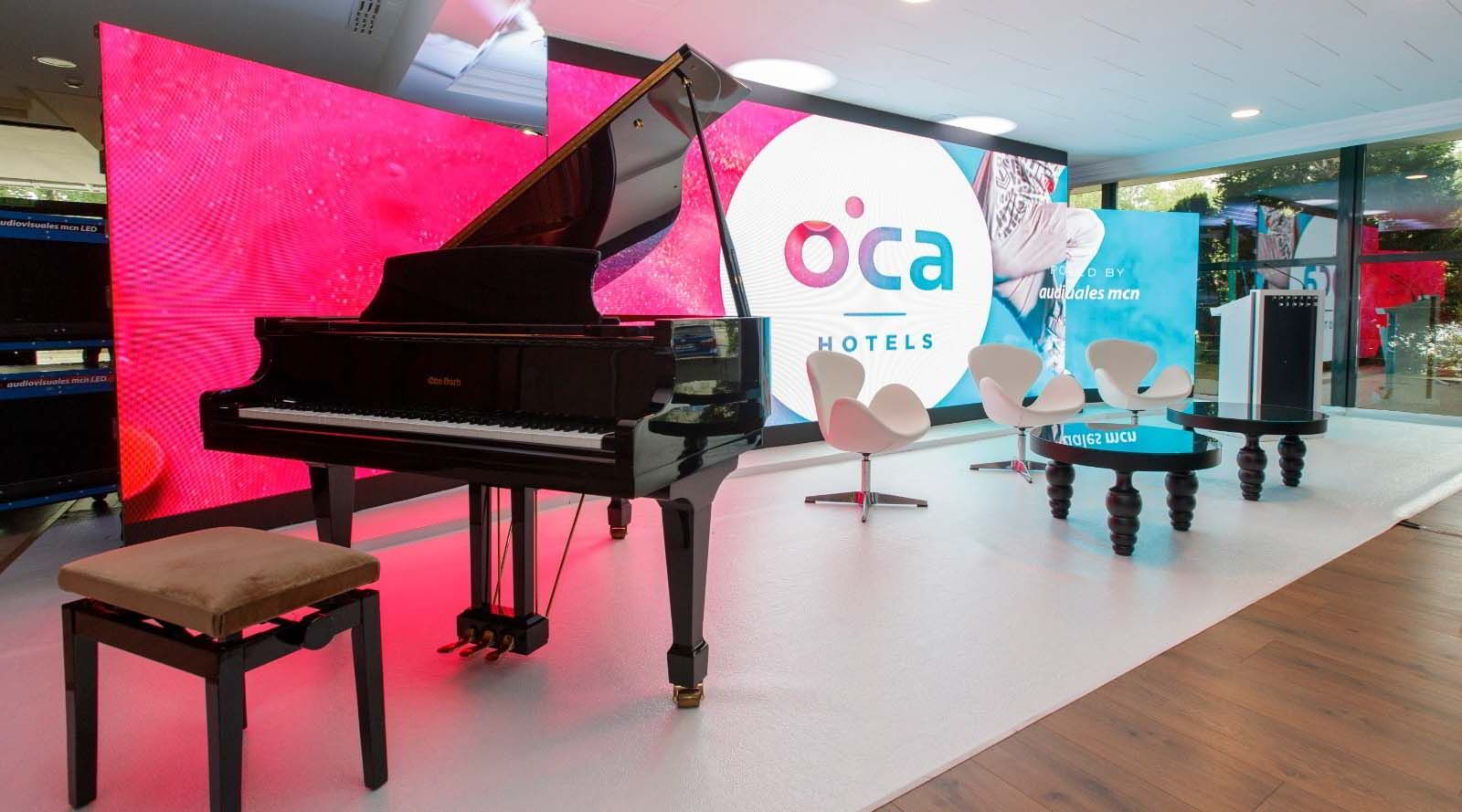 The reopening of this hotel, near the Conference Centre, came with some new features, such as the incorporation of a 22m2 multifunctional set with multi-camera broadcasting, installed by Audiovisuales MCN. This service offers an LED screen, robotic camera, two professional cameras, three computers, video mixing control table, lighting system, microphones (podium, clip-on, headset, and hand-held), 100Mb fibre optic broadband with private channels, stage setting as chosen by the client, business logos, use of any digital platform, live chat, reference monitor for speakers, and space for 40 people to attend in person.
Mar de Vigo Auditorium Set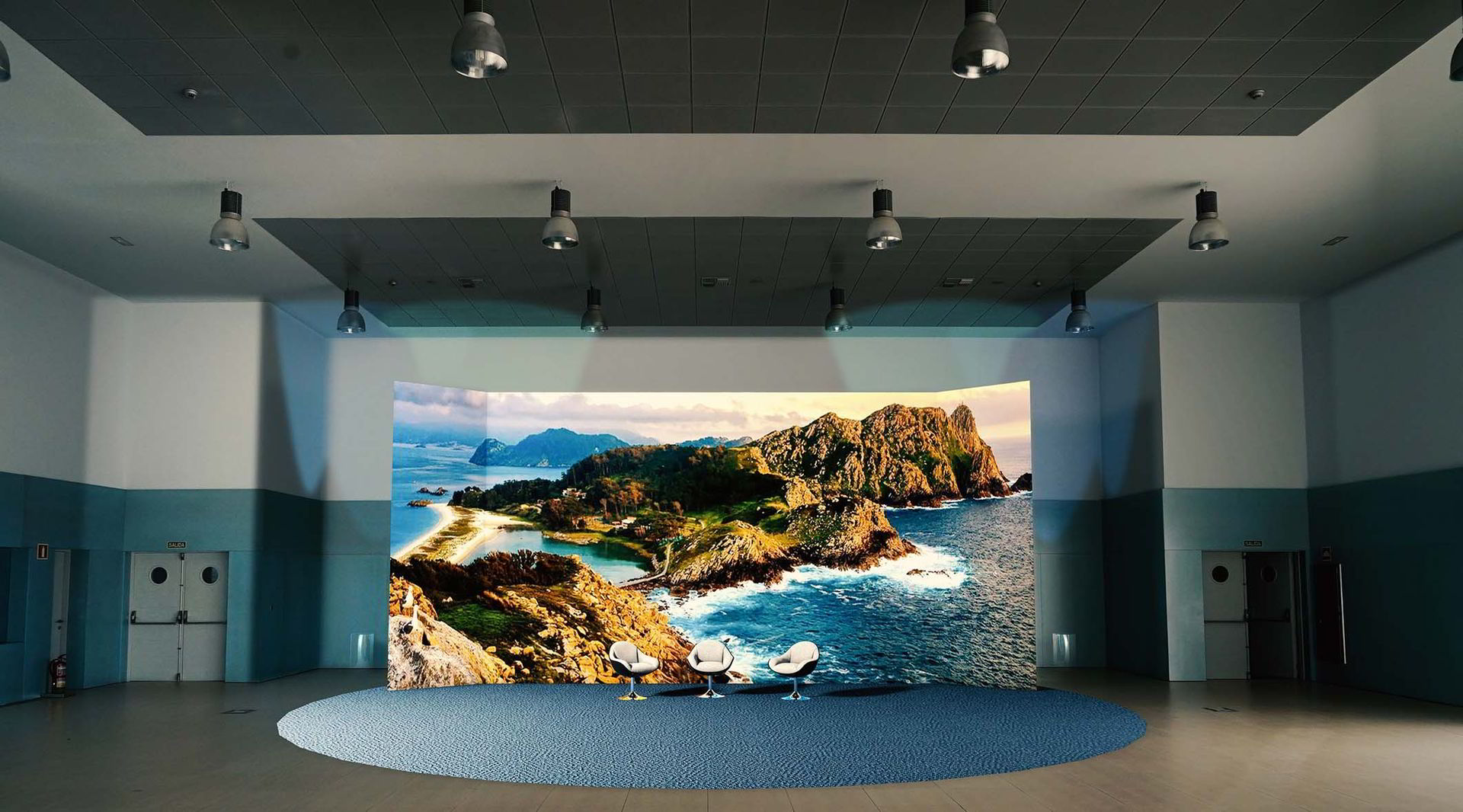 In October, the Mar de Vigo Auditorium will inaugurate its new facilities, located in the heart of the city and right next to the sea. FLUGE Galicia is the company in charge of installing all of the necessary resources so that live or pre-recorded events can be organised. These will be able to include 2D or 3D visual content, infographics and dynamic digital signage, virtual interfaces and environments, holograms, and augmented reality. The set boasts an adaptable 4×7-metre LED screen and two-way communication, meaning that it allows for interaction with the audience through surveys, debates, networking, social networks (multi-stream), and live concerts.  The professionals in charge are technicians specialised in telecommunications, live broadcasting, and the creation of digital content. They will also be able to provide guidance and adapt the set according the clients' needs, both on a technical and artistic level.
The set includes different areas that can be used for online seminars, virtual conferences where several speakers need to interact in real time, filming TV shows such as sitcoms, congresses, video clips, TV programmes (news programmes, weekly shows, or talk shows), professional technical equipment testing, trial runs, meetings, e-sports events, concerts, and much more.
The Mar de Vigo Auditorium's facilities can also be used, centralising all activities in a single complex and making managing the event easier.
MEGA, a new, different MICE space designed to see, touch, and experience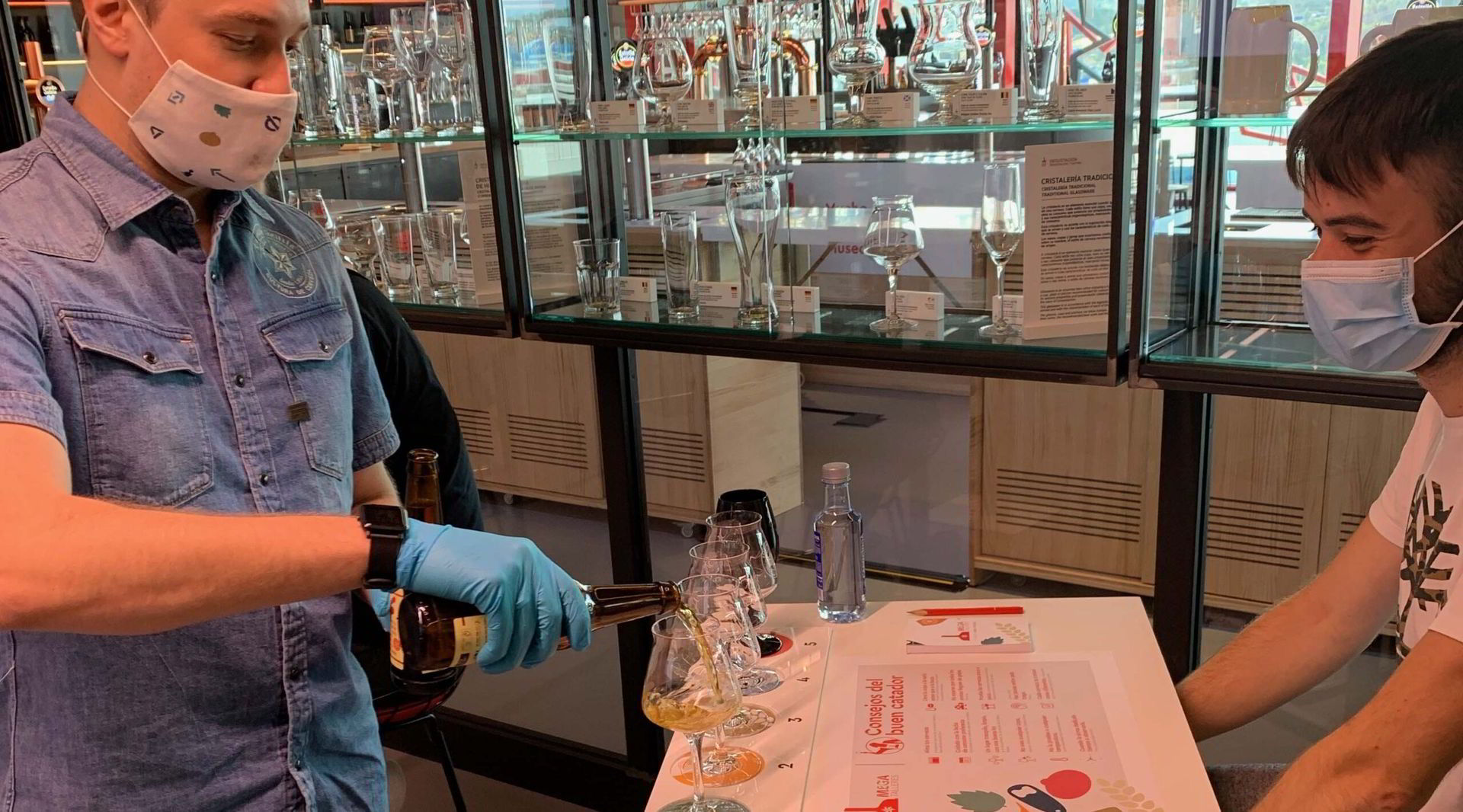 MEGA is a unique space located in the Estrella Galicia factory. As it is immersed in the facility's day-to-day activities, it allows guests to see the real manufacturing and canning process for this beer. It's the largest interactive beer museum in Spain and a unique space for your events! 
Given the current circumstances, the museum has been adapted in order to continue offering a safe experience without interrupting service for companies that want to delve deeper into Beer Culture.  To this end, we have begun to offer the possibility of doing a virtual visit or even teaching an "Introduction to Tasting" workshop live via streaming. This eliminates the need for participants to travel and we send a kit with everything they need right to their homes.  
On 19 June, MEGA celebrated its re-inauguration, sharing a beer-centred, musical event with its followers that was broadcast through Estrella Galicia's social networks. The Estrella Galicia beer museum "opened its doors" so that the public could take a virtual 360º tour of some of the most emblematic rooms of this unique exhibition space– it's one-of-a-kind in our country. Presenter Quique Morales hosted this visit, in which the followers had the final say, since their votes determined which spaces they would see.  The virtual tour took place during the Soundbrewing Festival on 19 June. This was an intercontinental streaming festival that SON Estrella Galicia celebrated by bringing together diverse artists such as Porridge Radio, Califato ¾, Hotelo, and Laura LaMontagne & Pico Amperio. Everyone participated from sets prepared specifically for the occasion, which represented the musical culture of their place of origin.